INTERESTED IN BECOMING A DEALER?
Promoting an exciting and relatively new product, meeting new like minded people and enjoying the outdoors offers a fantastic lifestyle.
As an internationally operating business we are always on the hunt for local sailing enthusiasts who share our passion for landsailing and want the opportunity to convert others to the sport. We have a growing network of international dealers.
If you are interested in becoming a dealer, please take some time to review the FAQs and complete the form below. We will make sure that every application gets processed in a timely manner.
TESTIMONIALS FROM OUR DEALERS IN THE US, AUSTRLIA AND EUROPE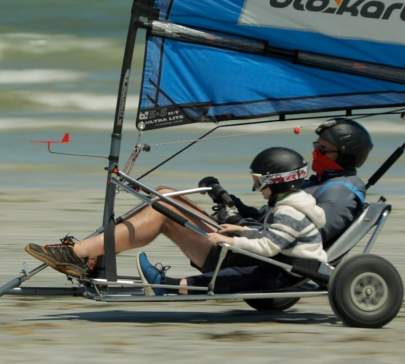 "I have been Blokart Landsailing since 2004 and became a dealer in early 2015.
Landsailing is my passion, so it has been a great experience for me to introduce a large number
of 'newbies' to the sport.
Obviously I have made a few dollars along the way and have been able to have a new kart most of the time, but for me it is not the only thing. I love competition and the more people I can get into the sport the better. The South Australia Blokart Club now has around 45 members plus I have around 15 recreational sailors.
Blokart International is great to work with and are very proactive. My dealings with them have
always been great". Cheers - Jim Dale, South Australia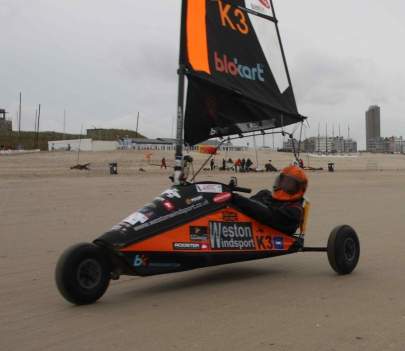 I am 55 live in Weston Super Mare in the UK and love any sort of water and windsport. I Windsurfed for years which ultimately lead me to Blokart. Pretty heavily involved in Blokart Landsailing in the UK and Europe and have been a member of the BLSA since 1989 even before Blokart. I used to race Norblan Speedsail back then. Been a BLSA chairman for many years and I am now the current EBA European Blokart Association President. I first had a go at Blokart Landsailing back in 2005. To be honest it didnt excite me much
as it wasnt very windy. Then I had another go in a bit more wind and WOW it was great fun. We then added Blokarts to the BLSA and I started racing. What I enjoy most about Blokart is the One Design aspect and that it`s ease of use. So much fun, I love the people involved. As Paul Becket (the inventor) says the Blokart family is fantastic. I became a dealer to help me fund my racing. It allows me to compete all over Europe. My main business is painting and decorating. I`m self employed and because I enjoy Blokart Landsailing so much I decided to become a Blokart dealer. We used to teach as well but have now stopped doing that and only do tasters to those really looking to get into Blokart Landsailing. I use my knowledge of the sport to help me. I sell most of the other things Blokart sailors need as well so a one stop Blokart shop. Blokarts are so much fun i think everyone should try it.
"Two of the greatest things that make my Dealership worthwhile is seeing the delight on the faces of new Blokart Sailors, but the main one is the pleasure I get from helping fellow Karters and Clubs. This is keeping me young while having fun. I love the connection."
Dave Moore - Central Queensland, Australia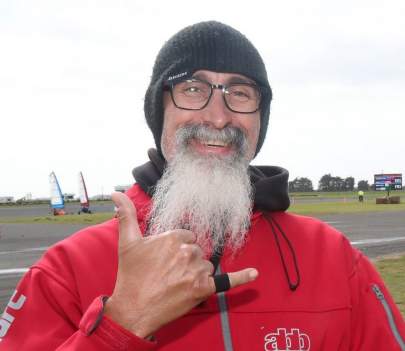 My name is Santi Oliver, I was born and raised in Mallorca grown up in a family with a sportsmanship and traveling spirit. One day, a guy named Javier Estarellas was on the hunt for sailing spots for his Blokart. He found the aerodrome I own and asked me if he could sail in it. I agreed with one condition, that I could have a go too. It was love at first glance - while I was waiting for my first Blokart with a Shadow to be delivered I already had converted 6ha of field next to the aerodrome into a Blokart track. That was back in 2006. I then decided to become a dealer as I had all the resources...the place, the wind, the time and support of my family and friends to start to spread the word. Blokart Landsailing is so easy, safe and fun. What I like about it the most is witnessing how anyone is able to become a Blokarter, no matter what their physical conditions are.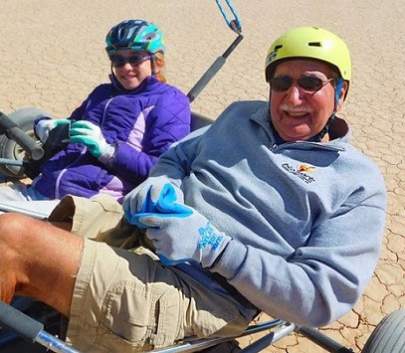 "Being involved with Blokart sailing made it easy to take the step to become a dealer. I knew the enthusiastic response that first time sailors had when you let them take a ride in a Blokart and they needed someone to supply their new passion. The person who buys a blokart from you becomes your salesman and the local group of sailors expands. Blokart is a quality product that attracts adventurous people who will soon become close friends". Fran Gramkowski - New Jersey, USA
Frequently asked questions
Is there a Blokart Dealer in my area?
Check out the map on our website - https://www.blokart.com/map/
Do I need a store?
No, In fact some of our Dealers are retired folk looking to grow this new sport in their region while also enjoying secondary income and a fantastic lifestyle.
What are the expectations of a Dealer?
-Secure local sailing sites to demonstrate Karts and for Kart owners to sail.
-Respond to customer inquiries and orders in a timely manner.
-Host regular Try-Out-Days, which BKI will promote.
-Build a local sailing community with regular sailing days
-Establish a local Club once sufficient karts have been sold
-Hold a NABSA membership and help promote the association
Do I need to have a sailing area near by?
Yes, with-in 1 hour drive. Customers willingly travel up to an hour for a sailing demonstration. Much further will noticeably affect sales.
Investment and Margins?
Dealers are expected to purchase one Kart Package for customer demonstrations, one Kart for resale, a selection of accessories and sufficient spare parts for the local fleet. The value of this investment is approx US$6,500.
What size territory will I have?
Based on the geographical area, sailing locations and population this is negotiated on a case by case basis. Dealers are typically allocated a 100km territory (minimum) from where they reside.
Can I market and sell online?
Only within your Dealership territory
What if a customer in my territory places an order on Blokart's website?
All customer orders from within dealer territories will be forwarded to the Dealer to manage.
Do I need to give customer demonstrations and host Try-Out-Days?
Yes. Having the ability to demo and teach is critical. Successful dealers regularly offer free lessons on the weekend, which typically result in sales.
Warehousing and Deliveries?
USA Dealers are supplied from our contract warehouse in Salt Lake City, Dealers in Europe are supplied by our European Distributor in Netherlands and orders from other countries will be supplied from New Zealand.
Who will I deal with?
Our Team is based at the Blokart International factory in New Zealand. Dealers in Europe work exclusively with the Blokart Distributor - BBIZZ adventure in sports (email: [email protected], Phone: +31(0)252 527700)
Do we have competitors?
Although a few small brands exist (particularly in Europe) Blokart is the largest Land Sailing brand on the planet with over 10,000 Karts sold in the first 10 years of business. Blokart is the only recognised 1-Design Land Sailor on the market with annual National Championships in over 15 countries and a biannual World Championships.
When do Dealers pay for Orders and how are payments processed?
Orders need to be paid prior to shipping. Bank Transfers are preferred but Credit Cards and Paypal are an option (surcharge applies).
Will my Dealership be profiled on Blokart.com?
Yes. Dealers receive a page on our Dealer locator - https://www.blokart.com/map/
What is the risk if I need to terminate my dealership?
Almost zero. If your circumstances change, just sell your inventory to easily recover your costs.