FREERIDE
From crossing Mongolia, to ice sailing in the Baltics, meet the Blokart® sailors who make our sport their passion.
BLOKART SPEED
RECORD AT IVANPAH
THANK YOU: SCOTT YOUNG FOR THE SUPERB FOOTAGE
During the final race of the 2018 Blokart North American Championships Scott Young from Arizona (previous record holder of 65mph) and Dave Lussier from Rhode Island (a performance sailor but first time sailing Ivanpah) set a new Blokart speed record of 77.7 mph (125.05kph).
The two were side by side rounding the weather mark when a freak wind storm (aka Haboob) exceeding 40 knots blasted through the fleet and propelled them like never before. Scott's GPS unit recorded a Max Speed of 77.7 mph. Dave also had a recording on a phone tracker which confirmed their Max speed. Read the full story.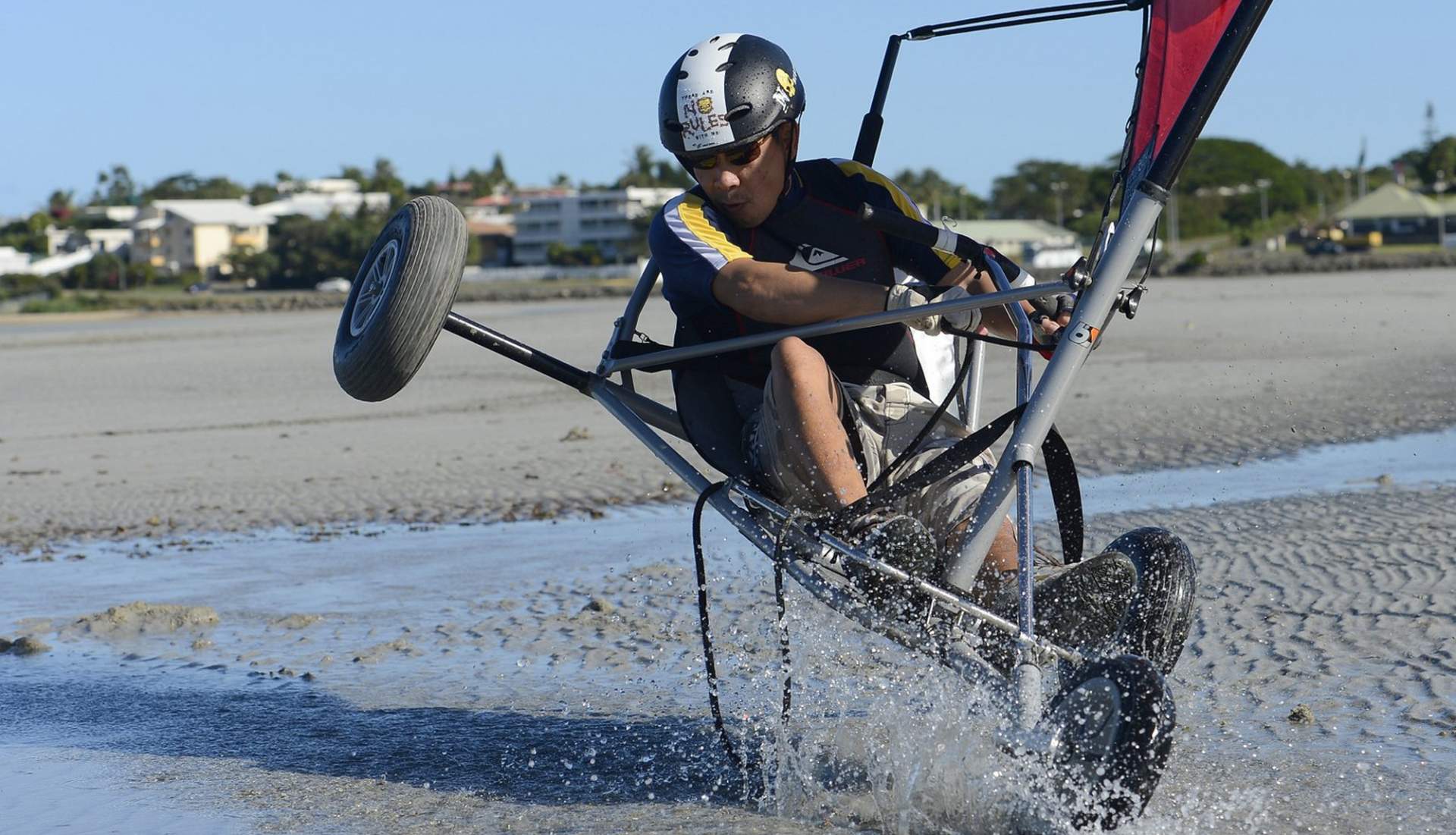 BLOKARTS ON ICE
THANK YOU: TORKEL STILLEFORS FOR THE FANTASTIC VIDEOS
Below-freezing temperatures don't dissuade Swede Torkel Stillefors from tearing up the tarmac. From sailing in falling snow in Stockholm, to donning ice blades on frozen Lake Ullnasjön, Torkel exemplifies the key to all weather sailing—a sturdy Blokart, good gloves, and a sense of humour.
KIWIS KARTERS
CONQUER 90 MILE BEACH
VIDEO CREDIT: TVNZ, ONE NEWS
Back in New Zealand where it all began, colourful crafts and characters race on the Northland's 90 Mile Beach—one of the longest in the world, and officially an alternative national highway. The Auckland Blokart Club, including inventor Paul Beckett, skirt the surf to show off the highlights of beach sailing.
MONGOLIAN RALLY,
BLOKART STYLE
VIDEO CREDIT: "FAUT PAS REVER," FRANCE 3 / EDITING
PASCAL SIMAR AND COPYRIGHT PHILIPPE MAIRE
In the spring of 2007, 12 adventurers from France, Spain, UK, Netherlands, and New Zealand tackled the arid wilderness of Mongolia's famed Gobi desert in Blokarts. Relying only on wind power and GPS coordinates to traverse from one landmark to the next, the sailors crisscrossed 2,000 km in eight days. From sub-zero nighttime temperatures to the tire-popping 15 mm spikes of the native boxthorn bushes, this desert challenge was not for the thin-skinned.
SAILING INTO THE
RECORD BOOKS
THANK YOU: ROSS VICKERS FOR THE AMAZING FOOTAGE
Professional sailor, Australian Ross Vickers describes his journey using a Blokart to set the first world record for farthest distance sailed in a land yacht in a 24-hour period. From physical preparation, including altitude acclimatisation, to the mental test of sailing solo at high speeds, Ross shares his story. The result: 246 nautical miles sailed, at an average speed of 25 knots, and a new record set in Smiths Creek, Nevada, USA.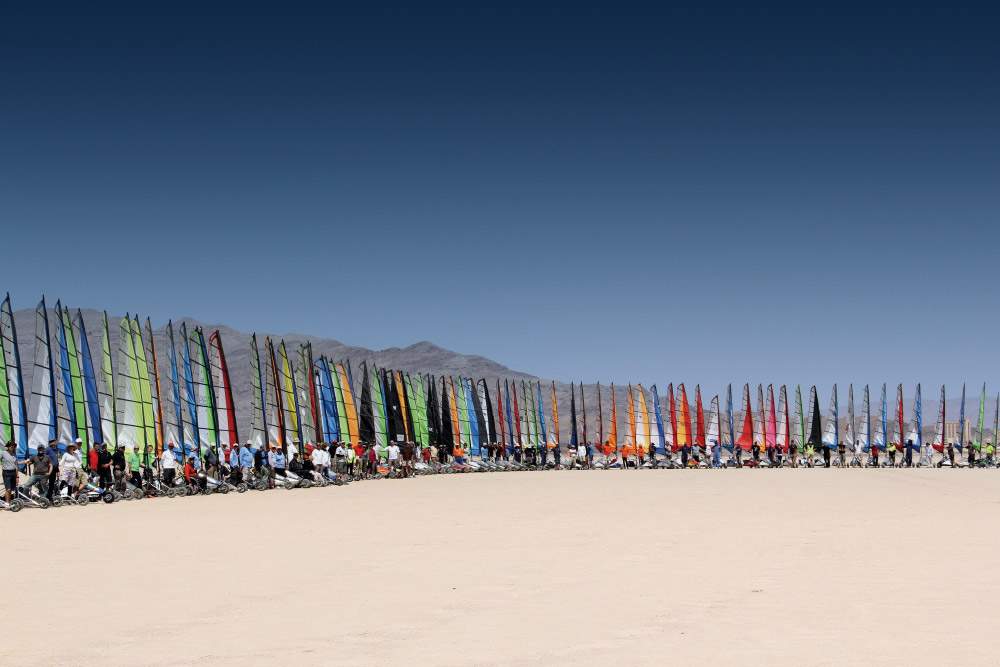 RACING
LOCAL CLUBS. NATIONAL EVENTS. WORLD CHAMPS.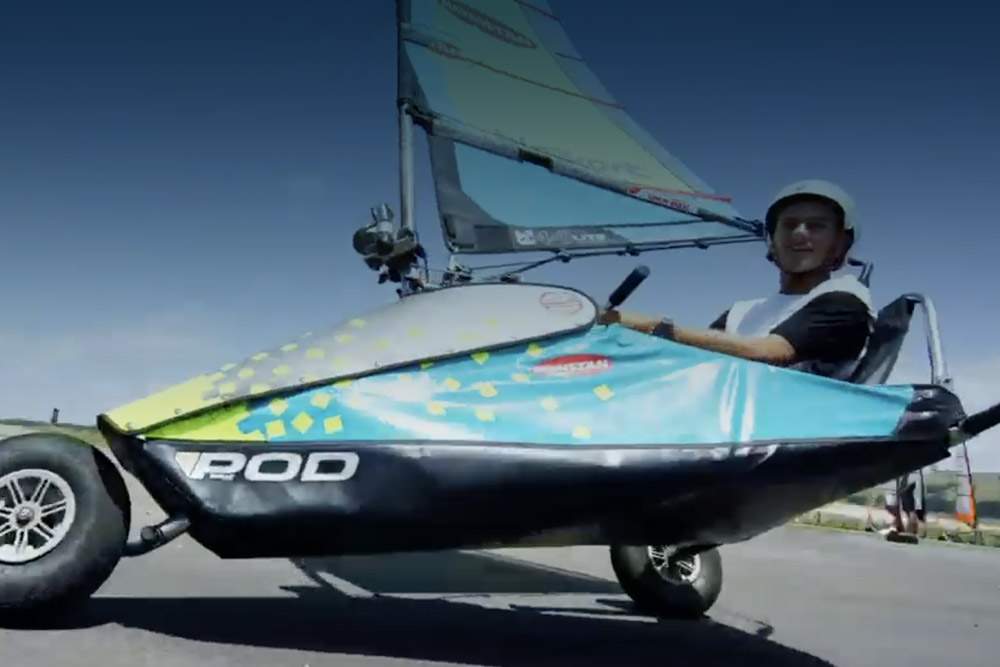 YOUTH SAILING
LEARN SAILING FUNDAMENTALS.